WHY THE NUTRITION ACADEMY
There are many schools that teach nutrition, but there is only one Nutrition Academy.
Whether you are looking to improve your own health, or become educated and share information you've learnt with your family, friends and your community…
If you want to create a health-based business or expand your depth of knowledge within a business you already own…you have come to the right place.
At the Nutrition Academy, created in conjunction with Changing Habits, our courses aim to simplify the complexity of food and nutrition in order to empower you as an individual to influence and effect sustained and holistic change in your own life and the lives of those around you.
In our courses we teach our students to become critical thinkers and use the power of research to sort through much of todays conflicting information. We show our students how to find credible information and thus find the knowledge to find and provide evidence to separate facts from fiction.
By understanding how to access and critically analyse information and apply this training in your own daily lives, you will quickly learn to navigate through the current nutritional "minefield" and be better equipped to make informed decisions about your food and nutrition.
The philosophy we teach at the Nutrition Academy is like no other.
Our courses are built on a foundation of vitalistic philosophy, which considers not only the past and present nutritional trends that influence health and well-being, but also the greater systems we are part of, including the environmental and lifestyle impacts. We view the body as a whole, looking at the entire system and not just a collection of their parts— ultimately teaching our students how they work together in harmony to achieve a specific outcome or function.
As a Nutrition Academy Functional Nutrition Consultant you can work with one or many, sharing advice on how people can make positive changes in their health. We believe that those who study with us help to create a ripple effect of change towards healthy living, which ultimately can have a huge impact in the world.
COURSES WE OFFER
We have three main programs of study.
Our Introduction to Nutrition Course is for those who are new to nutrition and are looking for ways to break old habits and create a new healthier lifestyle.
Our Functional Nutrition Course is a self paced 12-month comprehensive education with a focus on optimizing health through different generations.
We also have our Postgraduate Courses that focuses on applied practical knowledge and offers cutting edge research on the microbiome.
Introduction Course
Introduction to Nutrition Course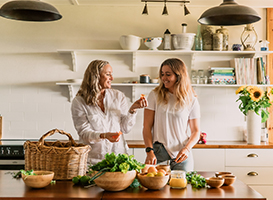 Core Course
Functional Nutrition Course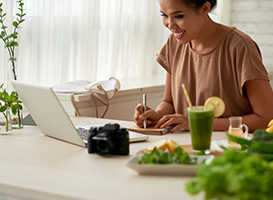 Post Graduate
Post Graduate Course  Microbiome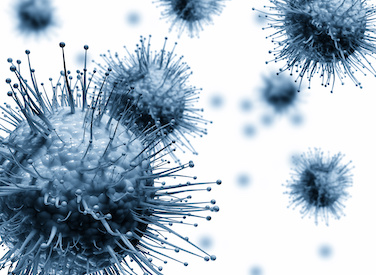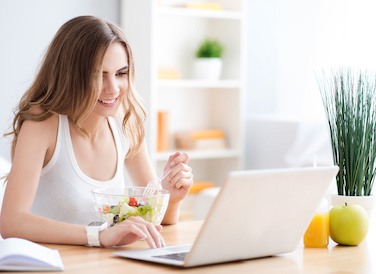 ENROL TODAY
If you are ready to get the most comprehensive functional nutrition education, we invite you to enroll and look forward welcoming you into our next intake.
INTERNATIONALLY ACCREDITED COURSE
The Functional Nutrition Course is accredited by the International Accreditation and Recognition Council. (IARC).
Our Functional Nutrition course is also approved for membership and insurance as a Nutrition Consultant through IICT.

WHO ARE THE INTERNATIONAL ACCREDITATION & RECOGNITION COUNCIL?
Founded in 1999, the International Accreditation and Recognition Council (IARC) is a not-for-profit education management association run by an elected committee. IARC provides opportunities for quality focussed like-minded institutions and educators to network and collaborate, functioning to outline benchmarks for excellence in education.
The council's primary purpose is to provide a simple recognition and accreditation system for distinguishing quality, post secondary education. This includes, but is not limited to, vocational, distance, adult and continuing education in the international education industry. As IARC is a global organisation, we operate independently from government.
WHAT DOES AN IARC COURSE RECOGNITION MEAN?
The IARC recognition provides a way of distinguishing between quality education in the post-secondary education industry. The system of recognition is designed to have high quality standards, yet minimum bureaucracy. A school which is IARC recognised demonstrates its drive to remain current with educational trends, work in partnerships with other education professionals, and to provide an assurance of authenticity to its students. This low-cost system enables school to avoid paying vast sums on quality assurance, instead they are able to invest profits back into the school, the courses and the student services. Schools who have joined the network have the benefit of collaborating with other like minded individuals and access to research from education.
THE FUNCTIONAL NUTRITION COURSE IS ACCREDITED THROUGH IARC.
All of Functional Nutritional Academy courses are accredited by IARC. This means that the courses have been specifically assessed against the IARC quality criteria in the areas of course delivery, assessment, content and administration. The accreditation criteria are determined by substantial feedback from the members and the Executive committee board. The Executive committee board are education professionals who are elected at the Annual General Meeting. In general terms, accreditation gives students satisfaction that a framework for excellence in education exists. It is a set of operating and ethical standards.
Should I start with the Introduction to Nutrition Course?
The Introduction to Nutrition Course is our introductory, Information only course. It is a great starting course especially if you are new to nutrition and our philosophy. It does not contain any assessments. It consists of a selection of different learning formats from podcasts, to reports to videos etc. The Introduction course sets the foundation of learning about our philosophy, so you can move into our more advanced course Fundamentals of Nutrition if you wish.
Do I need to complete the Introduction to Nutrition course before the Functional Nutrition Course?
No, unless you think your knowledge of Nutrition is at starter level, then I would suggest completing this course first. The Introduction to Nutrition course is based on our course creators Cyndi O'Meara's book Changing Habits Changing Lives (Now called- Lab To Table), if you are not familiar with this book or the philosophy, then we suggest starting at this level or familiarising yourself with the content of Lab To Table Book.
Can I start your courses anytime?
Our Introduction to Nutrition and Microbiome courses can be started anytime during the year. Our  Functional Nutrition Course has 6 intakes a year, contact us today to find out the next enrolment date.
Are your Nutrition Courses accredited and can I become a Nutritionist on completion?
Our courses are not accredited with any governing body you will receive a certificate of completion at the end of each course. If you wish to become a Nutritionist or Dietitian a degree in Nutrition from a university is required for this. 
The Functional Nutrition Course is an Approved Training Provider with IICT which means we have Professional Recognition and our students and graduates qualify for membership and Insurance through IICT as a Nutrition Consultant.
What can I do at the end of these courses?
Most of our graduates go onto starting their own business as a Health or Wellness Coach, we have a business course on offer on completion to help with the foundations of setting up your own business and is tailored for this industry if you need.
At the end of Applied Functional Nutrition course you have the option to do our bonus module (Functional Nutrition Consultant Program) where you can choose to become a Functional Nutrition Consultant and use resources and information from our sister company "Changing Habits". To either become a Wholesaler, an affiliate or run workshops using the 6 Week to Change Workshop slides we give you at completion, or you can choose to be all of the above.
You also have the option to attend our yearly practical weekend "Day with Cyndi" held on the Sunshine Coast, Queensland where participants can learn how to utilise the information in the course to help mentor their friends, family and communities and learn all the components of being a Functional Nutrition Consultant. There are endless possibilities of how you can utilise your skills and learnings at the end and turn them into a career working within the nutrition industry, it just depends on what it is you would like to do and what path you wish to go down.
If you would like further information or to be added to our video series which will provide more information about our academy and an insight of what graduates do at the end of the course then let us know and we can add you.
How long do I have to complete each course?
Introduction to Nutrition- This course is a 10 module course and can be completed in 10 weeks if you complete 1 module per week. You get 12 months access to complete it.
Functional Nutrition Course (Fundamentals and Applied)- Is a 12 module course which can be completed within 12 months or less. However we give you 2 years access to complete it.
Microbiome Course– Is a 10 module course that can be completed in 10 weeks if you can complete a module a week. You get 12 months access to complete it.
Incredible Edible Garden Course– Is a 6 module course that can be completed in 6 weeks if you can complete a module a week. You get 12 months access to complete it.
How much time should I allow each week to complete your Functional Nutrition Course
We say it approximately takes 4-6 hours per lesson and there are 4 lessons per module so if you can dedicate 4-6 hours per week and complete 1 lesson weekly or 1 module Monthly you could complete the 12 modules in 12months: however you can spend a lot more time if you are interested in a topic, as there are additional suggested readings for each module. We also understand that everyone learns at different paces, so these are approximate guidelines only. That's why we give you 2 years access to complete.
Are there assessments and exams in your courses?
Yes, our Functional Nutrition Course and Microbiome courses contain assessments. The assessment varies from multiple choice, short response to essay questions, and our qualified assessors give reflective feedback to further your learning. There are no assessments in the Introduction to Nutrition Course, Business basics course or Incredible Edible Garden
Is there support provided?
Yes, you are provided with support throughout your learning journey by our TN Academy team, qualified assessors, and other learners and graduates through our private Facebook group, online forum and direct messaging system in the E-Learning Platform.
Do we need to attend classroom sessions and what sort of learning materials are included?
Our courses are offered wholly online. There are no classroom sessions to attend. We do run monthly  webinars, these are recorded if you cannot attend live. The course content
includes lesson notes, videos, audios and activities to apply the learning and develop your critical thinking. All required learning content to complete your assessments are included, however at the end of each module we include a suggested readings section which may contain books we recommend for continual learning, these are optional and are not included in your course fees.
How do your Nutrition Courses differ from others?
In our course we teach our learners to become critical thinkers and how to research as there is so much conflicting information out there, we want our learners to find the credible information and have knowledge on how to find and provide evidence if required. The information you learn in our course is not found in any other main stream nutrition course on the market. Our course is based on a holistic approach and is based on the philosophy of Cultural Anthropology and a vitalistic approach to nutrition through systems where we look at the body as whole. We look at the entire system and not just the collection of their parts but how they work together in harmony to achieve a specific outcome or function.
I am overseas, can I do your courses?
Yes, as our courses are all online, our course content can be accessed anywhere in the world as long as you have a good internet connection and access to a computer.
Do TN Academy courses lead to a Nationally Recognised Training certification?
No, as our courses are not Government Accredited.